Choose Your Shoes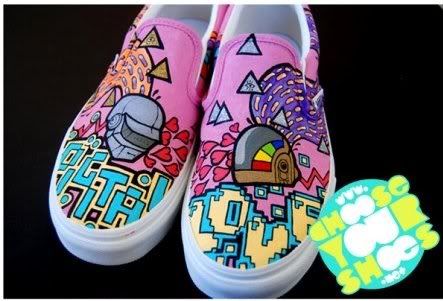 I remember one day during my senior year in high school, I was sitting next to my friend Michael Burk in science class when he decided he was bored enough to doodle on his shoes. Burk's the kind of guy that can do just about anything with flair, so when kids started freaking out over his new kicks, decorated with a ball-point-drawn elephant and Death From Above 1979 tribute balloons, I wasn't that surprised.
He agreed to start painting on shoes for friends of ours for the cheap price of $15. His shoes were a huge hit, and even after he left for college, the requests never stopped coming. He turned his side job into the company Choose Your Shoes and continues to paint custom Vans slip-ons for girls and boys alike. The price has gone up though – these days an M. Burk original will cost you $175. But I mean, look at these things, they're amazing.
The shoes are completely customized. You tell him what sort of things your into, what colors you like, and he'll turn that into a one-of-a-kind, original work of art you can wear! He refuses to make the same pair of shoes twice and prefers not to copy other artist's work, and don't worry, the shoes can get wet. But treat them nicely, yo!